Situation on April 8th, 2020:
Appeared in December in China, the coronavirus now affects all continents, except Antarctica.
In France, we are still at the beginning of the epidemic. It is therefore advisable to respect the health instructions indicated in order to fight against its spread and to push back its peak as much as possible.
To this end, President Macron announced on March 12th the closure of nurseries, schools, colleges, high schools and universities from Monday, March 16th and until further notice. Press release
CMI Brest will therefore be closed to the public until further notice. We remain at your disposal by email and for the renewal of your residence permits, we ask you to regularly look at the "RCS Jonction" section on our home page.
Travel to mainland France or to French overseas territories
In the context of the implementation of the state of health emergency in France, access restrictions to Mainland France and to French Overseas territories are in effect. Every traveler is requested, from 8 April 2020, 12 AM, to fill out and carry one of the following travel certificates according to his situation :
The document is to be presented to transportation companies before boarding, as well as to border control authorities.
Since March 17th, midday: a certifcate of movement is mandatory to go out of your home!
From 12pm on Tuesday 17th March, travel is prohibited except in the following cases:In a bid to slow the spread of Covid 19, President Emmanuel Macron announced that all citizens are legally obliged to restrict their movements to the bare essentials.
New and firmer rules on the lockdown

were announced by French Prime Minister Edouard Philippe on March 23rd on television.
The new rules were compiled in a decree and came into force Tuesday 24th March.
Anyone stepping out of their homes needs to present their ID as well as a dated and signed certificate ("Attestation de déplacement dérogatoire" stating their reason for being out. Please note that the time at which people go out must appear on the certificate too. A digital version of this certificate is available in French on the French Home Affairs website.
People can only go out for the following reasons:
- To travel to and from work IF YOUR WORK IS ESSENTIAL and cannot be done at home.
- To buy food and essentials.
- To attend medical appointments – if they cannot be postponed or done from a distance.
- For vital family reasons - providing urgent care to a child or to an elderly person.
- For individual exercise, but this must be done alone, be within a distance of one kilometre from home, last no longer than one hour and happen only once a day.
- To attend a legal summation by French police, justice or official administration.
People breaking these restrictions will face a fine of 135 euros. According to the new decree, a second breach registered in the 15 days following the first breach will be punished with a 200 to 450-euro fine. Anyone who breaks the rules three times risks a 3,750-euro fine and up to six months in prison.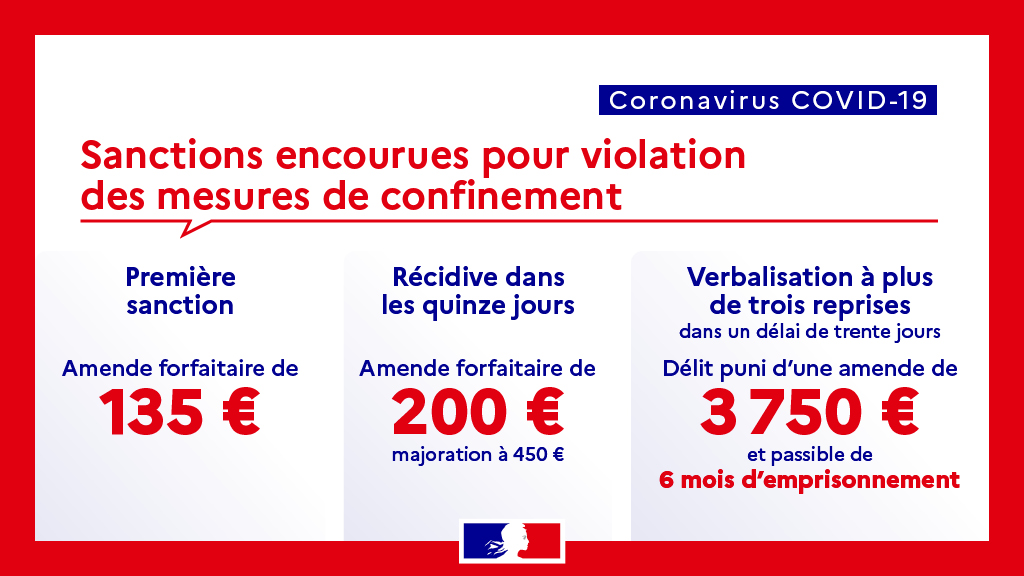 Please remember that each outing requires a new form.
For people who printed lots of forms when they appeared, the former forms are considered as valid l ONLY IF you put the time next to the date on it
If you do not have access to a printer, you can write out the form by hand.
The most common symptoms of the disease caused by Covid-19 are:
fever above 38 ° C, cough, unusual tiredness or myalgia (muscle pain), dyspnea ( breathing difficulty).
There are simple steps to protect your health and that of those around you.
The virus does not circulate alone, it is humans who carry the virus, so the following measures, called "barrier gestures", are common sense measures:
Barrier gestures:
wash your hands regularly with soap or an alcoholic gel;

do not shake hands and avoid kissing;

cough or sneeze into your elbow;

use disposable tissues.

Stay at home, avoid contact with others. Some people transmit the virus without feeling the symptoms.
Official recommendations
If you think you're sick, avoid public places. Do not visit frail people (elderly or sick). Avoid leaving your home. Follow the barrier measures (hand washing, mask). Monitor your symptoms, changes in body temperature and seek medical advice by phone or teleconsultation, DO NOT GO to your GP's or to the hospital;
In case of breathing difficulties:
Contact the SAMU immediately (French emergency services – dial 15)
Do not go directly to your GP's or to the hospital.
Useful links:
ANY QUESTIONS ABOUT COVID 19 ?
https://maladiecoronavirus.fr/
Free number 0 800 130 000 24h A DAY, 7 DAYS A WEEK